Wall-E Nurse Edition: Can you scan? Yes, you can!
In this webinar we will be discussing how best to utilise your ultrasound machine in a nurse focussed session, instead of it just sitting and gathering dust. We will look at what the controls of the ultrasound machine do and how best to alter them throughout an ultrasound scan.  We will also focus on how to navigate your way around an ultrasound scan taking into account key anatomical landmarks and we will look at the benefits of nurse led ultrasound in practice and how this can support the veterinary team to improve patient care with the use of diagnostic imaging.
Meet the speakers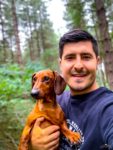 show
After qualifying in 2018 I decided to pursue new challenges at a small animal hospital in Norfolk, where I am currently employed solely in emergency and critical care, working in out of hours. I am currently undertaking my certificate in emergency and critical care, which is further developing my knowledge in this area. I'm particularly keen for continuous personal and professional development, so I've developed a passion to support other veterinary nurses to grow and enhance their skillsets. My specialist interests are ultrasonography, emergency & critical care, anaesthesia and exotics. I regularly share my experiences and new learnings by engaging with others on my social media platforms with the hope of encouraging and supporting others professional development and skills. I am enthusiastically involved with the BVNA (British Veterinary Nursing Association) after being elected on to the council, which is a hugely proud opportunity to be able to have an impact in driving the veterinary nursing profession forwards.
already purchased this webinar? login to your vtx account for access
login
check out all our other webinars
webinars