The neurological exam
The neurological exam can be one of the most challenging examinations to perform… second only to ophthalmology. Here we look at a logical approach to the neurological exam, with lots of video examples of those tricky reflexes and cranial nerves!
Meet the speakers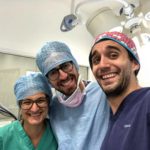 Pablo Amengual-Batle
Neurology Specialist
show
Pablo graduated from the Universitat Autònoma de Barcelona in 2012, followed by a rotating small animal internship in the same institution. He worked in general practice for 6 months before moving to the UK. Pablo completed a 6-month externship in Neurology and a second rotating small animal internship, both at the Hospital for Small Animals of the University of Edinburgh. In 2016, he began a residency in Neurology/Neurosurgery at the Small Animal Hospital of the University of Glasgow. In 2019, Pablo re-joined the Hospital for Small Animals as Lecturer in Neurology. He was awarded the diploma of the European College of Veterinary Neurology in 2020.
already purchased this webinar? login to your vtx account for access
login
check out all our other webinars
webinars