Radiation therapy in small animals: What do I need to know?
Radiotherapy (RT) is a treatment modality based on the use of ionizing radiation, and it is mainly used to treat cancer. In the last 2 decades, RT has become an integral therapeutic and pivotal tool in the treatment of cancer in veterinary medicine. This webinar will focus on how RT can be used to treat various conditions; the palliative uses of RT and the often toxic side effects that can be observed in our patients.
Meet the speakers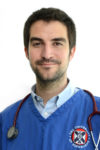 Juan Carlos Serra
Radiation & Oncology Specialist
show
Juan Carlos graduated Cum Laude from  Universidad Complutense de Madrid in 2012. Soon afterwards he completed a rotating small animal internship in Universitat Autònoma de Barcelona. He then moved to the UK to complete an Oncology internship and an ECVIM Medical Oncology residency at the Hospital for Small Animals of the University of Edinburgh, followed by an ECVIM add on Radiation Oncology residency.  He was awarded with the ECVIM-CA (Onc) diploma in 2018, becoming a European Veterinary Specialist in Small Animal Oncology, and with the add on Rad Oncol diploma in 2020, becoming a European Veterinary Specialist in Oncology and Radiation Oncology.
already purchased this webinar? login to your vtx account for access
login
check out all our other webinars
webinars