Nursing IVDD in canine patients
Intravertebral disc disease is a common spinal disease which can be seen in Primary care and referral practice patients. This webinar will look at the types of IVDD commonly seen as well as the fundamental aspects of preparing for a spinal emergency and how veterinary nurses manage these patients from their initial neurological examination all the way through discharge; focussing on the patients post-operative care needs.
Meet the speakers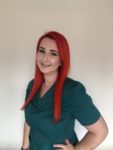 show
Elle Payne is an locum RVN working in England, UK. Elle qualified in 2018 from Nottingham Trent University and has experience working across both referral and first opinion practice. Elle's interests are focused mainly in neurology, consulting and emergency & critical care nursing.
already purchased this webinar? login to your vtx account for access
login
check out all our other webinars
webinars