Top 5 tips for managing anxiety
It would be unusual if we were not feeling an element of anxiety at the moment but how can we help ourselves and others in our daily work and through the current global crisis? Jayne and Jo specialise in coaching people and organisations through change and difficult situations. They have found that people often experience anxiety and similar feelings when faced with difficult situations and feel they have little control over that situation leading to uncertainty, confusion and self-doubt.
Whilst they are not clinicians they offer up practical tips on how to manage these feelings and help to take back some control which is well worth listening to.
Meet the speakers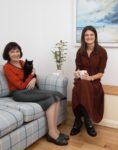 show
Jo is the Managing Director of MacLennan Norman and leads the business on a day to day basis with clients across the private, public and third sector. She has spent her career working pre-dominantly across the health and social care sector and has led high profile national improvement and re-design programmes. She is an accredited mediator and executive coach and also a non-executive director in the private and public sectors. Jayne spent her career working in the UK, North America and Europe and is a former FTSE 300 Executive Director. She is an accredited mediator and executive coach and is also a non-executive director on a number of public, private and third sector boards.  Jayne is the founding director of MacLennan Norman and now combines this with non-executive and strategic advisory positions.
already purchased this webinar? login to your vtx account for access
login
check out all our other webinars
webinars