Approaching bullying in the workplace
In their work as specialists in coaching and conflict resolution Jo and Jayne regularly encounter people who are enduring bullying which may manifest in many forms but each having enormous impact on people. In this video they talk about ways in which people can help themselves and others deal with this.
Meet the speakers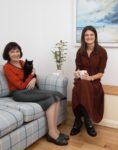 show
Jo is the Managing Director of MacLennan Norman and leads the business on a day to day basis with clients across the private, public and third sector. She has spent her career working pre-dominantly across the health and social care sector and has led high profile national improvement and re-design programmes. She is an accredited mediator and executive coach and also a non-executive director in the private and public sectors. Jayne spent her career working in the UK, North America and Europe and is a former FTSE 300 Executive Director. She is an accredited mediator and executive coach and is also a non-executive director on a number of public, private and third sector boards.  Jayne is the founding director of MacLennan Norman and now combines this with non-executive and strategic advisory positions.
already purchased this webinar? login to your vtx account for access
login
check out all our other webinars
webinars