Reply To: Cat lung radiograph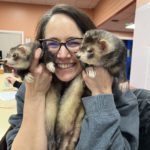 Kerida Shook
Participant
01:11 20/02/21
Hi Liz, hi Scott,
thank you SO much for your input. It is greatly appreciated. I actually did attempt a quick scan of the heart- I have a 'new' machine and was trying the cardiac probe for the very first time (no cardiac scanning table yet so was a bit challenging). I am not that experienced with cardiac scans, and I was running out of time trying for the proper views. It did look odd to me. I have made videos of the scan with my phone, I wonder if there was somewhere to post these as well? They are probably so rubbish, they may not be of any help or provide any additional information…. I am just really trying to do the best for this cat as well as for the owners. I might be able to post them on your FB page? Let me now if there is a way to add them to this discussion thread.
The lung sounds were harsh- there was definitely no wheeze, more like a soft crackle which was louder on inhale.
Thanks again for your support!