Sunday, November 1st, 2020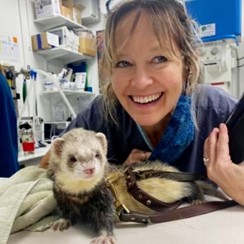 Bronwen Eastwood – Co-Founder, VETbytes
BSc(Hons) BVetMed CertGP(SAP) MRCVS
Bronwen qualified from the RVC with an intercalated degree in Anatomy at Kings. She started her career working in small animal practice with the Sinai Wildlife Project, Egypt, setting up a clinic and working with the migrating white storks and other wildlife and travelling to the desert to work with camels.
Returning to London to run a branch practice, Bronwen relocated to Belize where she gained a license to practice and set up a clinic on Ambergris Caye. She worked with Coastal Zone Management to rehabilitate manatee pups, tag wild manatees and post-mortem others.
Passionate about animal rights, Bronwen wrote a white paper with the CVO and worked with the local authorities to prevent the poisoning of stray dogs, whilst setting up a neuter- rehome-education program across the island.
She then went on to found the Saga Humane society and ran eight-week lecture courses in local schools whilst neutering and rehoming stray dogs. After writing a grant proposal for the shelter, Bronwen returned to the UK after four years.
Numerous locum positions (Gibraltar to Scotland) and 10 years running a branch practice on the south coast and working in the hospital, Bronwen attained BSL level 1 and 2 so she could communicate better with her deaf clients.
Back in the UK, Bronwen went on to co-found VETbytes, an EBVM resource for vets working in first opinion practice, after recognising a void for a resource that provides up-to-date, evidence-based, user friendly clinical information. Alongside co-founder Zoe Coker, Bronwen co-wrote the treatment guides for the VETbytes emergency and critical care app, a subscription-based resource designed to support vets who need to keep up to date and provide an excellent service to their clients and patients.
The ECC app is available now at www.vetbytes.co.uk.
---