Wednesday, August 19th, 2020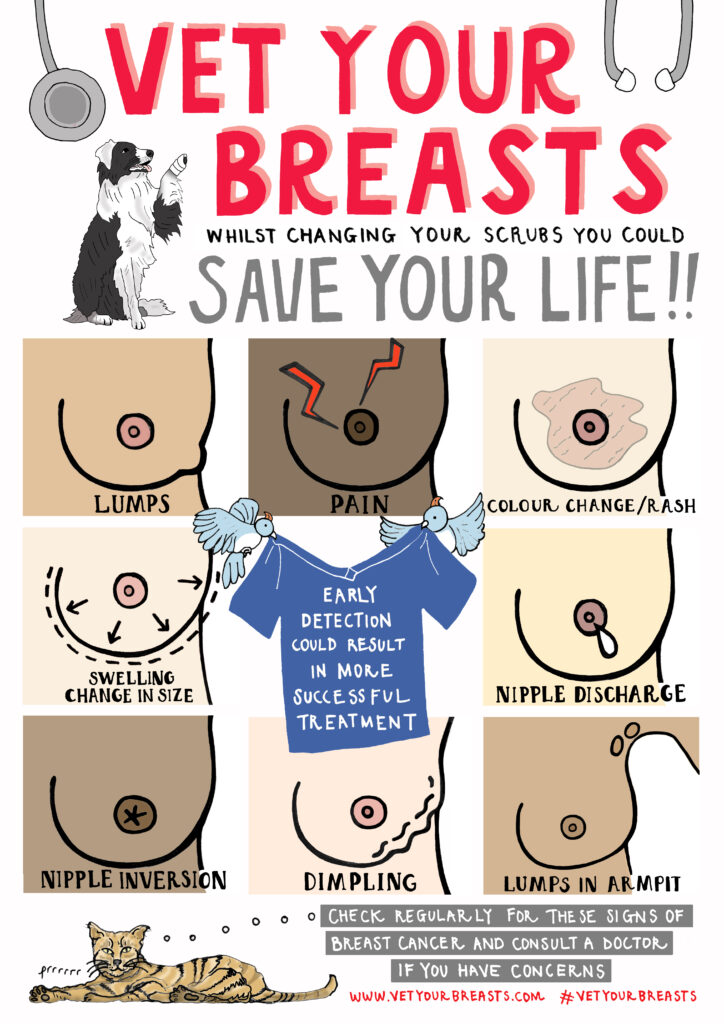 It could be a lump, but it may not be. It could just be a rash, swelling, or a newly inverted nipple.
Each is a sign of breast cancer in humans that Dr. Anna Beber wants her fellow veterinarians to check themselves for regularly, lest it be too late.
The Bristol, England-based cardiology clinician is behind a campaign to have a quirky poster and sticker for breast self-exams displayed in every one of the United Kingdom's 5,000-plus veterinary practices.
It was such a sticker, after all, that alerted Beber to her own illness: She was diagnosed with breast cancer earlier this year, at age 33.
Beber, now 34 and practicing at HeartVets, recalls visiting the gym last December after a typically hectic day at work and noticing a small sticker on the changing-room wall next to the mirror. It said: "Check your breasts," and she did just that.
"Even though I had intermittently checked myself before, I hadn't really thought about this as something that could happen to me, particularly as a younger woman," she told the VIN News Service. "And then I saw this poster, checked myself right then and there, and that's when I detected a lump."
Beber was subsequently diagnosed with an illness that affects about 1 in 8 women in Britain during their lifetime, according to the country's National Health Service. The statistics are similar in other countries, including the United States. Men, too, can develop breast cancer, but account for less than 1% of all cases. Although more common in older women, the illness is also the most commonly diagnosed form of cancer in women ages 25 to 49, according to British research.
For Beber, the sticker in that changing room stuck in her mind. "I couldn't let go of the thought of how many people out there haven't seen a poster like I did and who wouldn't think to check themselves," she said. "With breast cancer, early detection is so important. It gives you a chance to have more successful treatment."
The Vet Your Breasts poster, illustrated by Katherine Kannon, depicts eight signs of breast cancer.
Beber acknowledges that there are other good breast-cancer awareness drives. Some that are popular include the #ChangeAndCheck campaign in the U.K., which featured posters similar to her own. Another campaign in Britain, by the Pink Ribbon Foundation charity, encouraged women to expose a naked breast on social media before the picture was deleted for violating nudity policies, alongside the slogan, "Check it before it's removed."
Beber figured that an effort specifically targeting veterinarians could be particularly needed because they tend to spend so much time caring for others, whether it be animals or their owners. "We need a reminder to think about ourselves a bit more," she said.
At the same time, Beber said veterinarians, at least from her own experience, tend to have one another's backs. "In this industry, a campaign like this could actually work because we do care a lot about each other," she explained. "We are all very close, and quite often you feel like you're in a big family."
So far, Beber has printed 1,000 stickers, helped artistically by illustrator and friend Katherine Kannon and financially by donations to a GoFundMe campaign that began in June. Practices either can order a sticker or download a poster from the Vet your Breasts website. Stickers already have been sent to practices in the U.K., though Beber said requests have come from as far afield as Canada, New Zealand and Puerto Rico.
Each poster and sticker is illustrated with eight signs of breast cancer, including pain, discharge from the nipple, dimpling, and/or swollen lymph nodes in the armpit.
The key, Beber said, is noticing whether there have been any changes from the status quo. "I just basically want as many women as possible to be given the opportunity to consider what is normal for them," she said. "And, if something has changed, to get checked out."
Find out more about this campaign
---