home
>
Reply To: FREE Webinar: If you prick us, do we not bleed?
Reply To: FREE Webinar: If you prick us, do we not bleed?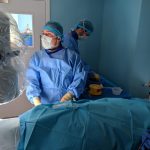 scott@vtx-cpd.com
Keymaster
Thanks for the question.
Did you think that both of these cases were idiopathic? I do reach for the vincristine quickly. They would get this on the day of presentation. Regardless of the underlying cause (whether the thrombocytopenia is primary or secondary), the vincristine will increase platelet release from the bone marrow.
It is completely appropriate to give IV steroids in these cases. I would then transition to oral prednisolone when dog will tolerate oral medication.
Beyond administration of vincristine for management of acute and severe thrombocytopenia, there are no prospective, controlled studies documenting efficacy of adjunctive immunomodulatory agents in treatment of dogs with primary IMT. However, retrospective studies and case series of canine primary IMT report on use of azathioprine, cyclosporine, and mycophenolate mofetil in combination with corticosteroids (with or without vincristine). It is not possible to make conclusions regarding their efficacy, however. There is a case report describing treatment with mycophenolate mofetil (median dosage 8.5 mg/kg PO q 12 h) as a single agent in 5 dogs with presumptive primary IMT in which corticosteroids were considered contraindicated due to chronic nonsteroidal anti-inflammatory drug administration. All 5 dogs achieved a complete remission, with the time for platelet recovery ranging from 2 to 6 days and no evidence of relapse during a median follow-up time of 16 months (range 5 to 32 months).
Hope that helps.
Scott x